Private Lessons (14 or 20 Week Semesters) To Download Information on Private Lessons, Click HERE.
Available all terms. Private lessons are a great way to keep students focused and engaged with their instrument this school year. Jefferson offers 30, 45 and 60 minute weekly lessons with three levels of instructor to suit students of all ages and ability levels. Students work one on one with an instructor to develop their technique, musicianship and performance skills. Private lessons are also an excellent option for students who may have trouble focusing in a group setting or students on the autism spectrum. See our policies and guidelines for further information. Our resources page can also help you determine which of our course offerings will be best for your child.
The tuition for private lessons is determined by a combination of the length of the weekly lesson and the credentials/experience of the instructor. The length of the weekly lesson is an indication of the minimum daily practice expected. The tuition includes studio class, Performance Day, and masterclasses with an accompianist when required.
Jefferson Academy of Music grants complimentary tuition for concurrent enrollment in a Musicianship Class. Private lesson students are strongly urged to participate in their assigned Saturday class. Musicianship Class is typically a subsection of the String Project Saturday Courses.
Instructors are available with varied credentials and experience ranging from Artist Facultly (Level IV) with extensive experience to the undergraduate intern (Level I) who is just beginning to teach. Each new instructor added to the faculty is carefully screened and selected on the basis of qualifications and via a background check. See the general description of the instructors at each level below:
Artist Faculty (Level IV): Faculty members from an area university or community artists or teachers with comparable credentials. Satisfactory student audition and interview required.

Senior Faculty (Level III): Faculty members with at least one advanced music degree in addition to substantial performance and teaching credentials. They establish their own guidelines regarding student acceptance in their studios.

Certified Faculty (Level II): Faculty members who have received at least one music degree in their teaching area and also have more than two years of certified teaching experience. They teach using Jefferson Academy guidelines and approved material for their particular instrument.

Intern Instructors (Level I): Faculty members who are part of a select group of music majors who have completed pedagogy classes. They teach under the guidance and supervision of the music facutly at an area university or of a Master Teacher in the Strings Project. Intern Instructors cannot be assigned to advanced or adult students.
Spring 2019 (1/22/2019-4/24/2019)
Group Classes
Available this spring! All group classes are scheduled based on student interest and instructor availability. Classes not meeting a sufficient number of interested students will not be held in the given term. The following are our Spring 2019 Group Course Selections:
Piano
Available Spring Term (1/22-4/24) 2019. Our piano classes give young students the opportunity to begin studying piano. Students prepare short pieces, practice technique and learn about musical concepts including rhythm, melody and harmony. These classes are open to students ages 5-10.
Guitar
Available Spring Term (1/22-4/24) 2019. Guitar classes at Jefferson Academy of Music are open this summer to students ages 6-12 who are looking to begin or continue their study of guitar in a group environment. Instructors focus on technique, basic music theory, and introductory musical concepts including rhythm and harmony.
Voice/Stage Movement
Available Spring Term (1/22-4/24) 2019. Voice/Stage Movement classes are open to students ages 10-16 interested in studying acting, musical theater, or stage presence. These classes are designed to give students an introduction to basic vocal and stage movement techniques to increase their confidence and performance skills.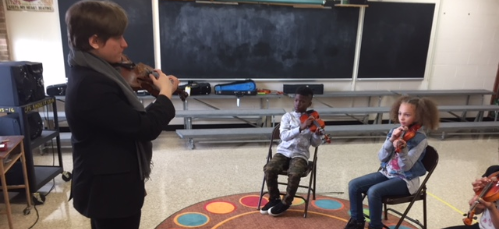 String Project
Available Spring Term (1/22-4/24) 2019. String Project is open to students from 5-18 years of age studying violin, viola, cello or bass. This course includes group string technique classes, short private lessons, music theory, eurythmics, composition, improvisation and music history. Music students from local colleges serve as classroom aides to ensure that all students have enough help and attention to learn and study their instruments in a relaxed group environment. The Jefferson Academy of Music String Project takes place during the academic year and is open to students at beginner, intermediate, and advanced levels.