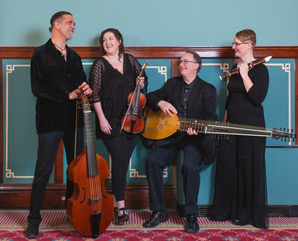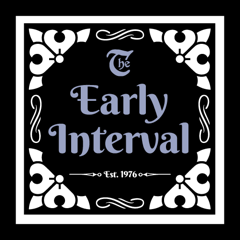 The Early Interval is a Columbus-based ensemble specializing in medieval, Renaissance and Baroque music performed on period instruments. The Early Interval was formed in 1976 and has since its formation performed medieval and Renaissance music for audiences all over Ohio and occasionally beyond. The ensemble performs vocally and on early wind, bowed string, plucked string, and percussion instruments. The group has engaged in a wide variety of collaborations with actors and theater companies, dancers and dance companies, singers and vocal ensembles, narrators, composers and guest instrumentalists. Since 1979, The Early Interval has been the resident ensemble performing annually on Capital University's Early Music in Columbus concert series. The ensemble currently includes Jim Bates, Sean Ferguson, Lyz Liddell, and Alexandra Vargo.
Dr. James Bates
Jim Bates began performing with The Early Interval in 2002. Before moving to Columbus, he was on the faculty of the University of Louisville School of Music, he was Music Director of the Louisville Youth Orchestra, and he directed the Louisville Mandolin Orchestra. Dr. Bates is currently Director of Orchestral Activities at Otterbein University, Principal Bass and Assistant Conductor of the Westerville Symphony and Assistant Conductor of the Columbus Symphony Youth Orchestra Cadet Orchestra. Dr. Bates joined the conducting staff of the Interlochen Center for the Arts in 1999 and has served as guest conductor or clinician throughout the United States. Dr. Bates serves on the national board of The Classical Mandolin Society of America. He is also honored to serve on the board of the Friends of Early Music in Columbus. While pursuing a Masters degree in double bass at Indiana University, he was active in the Early Music Institute and studied with Stanley Ritchie, Thomas Binkley and Wendy Gillespie. He also participated in the Early Music Ensemble at the University of Louisville, working closely with its director, Jack Ashworth. He received his Ph.D. in Musicology from the University of Kentucky in 2002. Jim plays viola da gamba and other bowed strings as well as various wind instruments.
Sean Ferguson
Sean Ferguson began performing with The Early Interval in 2009. He holds bachelor's and master's degrees in music history from The Ohio State University and a master of library science degree from Kent State University. In Philadelphia, he studied guitar at the University of the Arts and was a winner of the WFLN Radio Instrumentalists Competition. As a soloist, accompanist, chamber musician and orchestra member, he has performed extensively on instruments of the lute family and classical and early guitars, including appearances with Opera Columbus, Columbus Dance Theatre, Lancaster Chorale, The Ohio State University, Otterbein University, Capital University and Ohio Wesleyan University. He has collaborated as a continuo player for numerous concerts and productions of Baroque operas by Monteverdi, Cavalli, Purcell, and Handel, working under lutenist-conductors Lyle Nordstrom and Lucas Harris, among others. As a librarian, he has worked at OCLC Online Computer Library Center and The Ohio State University Music & Dance Library. He is president of the Columbus Guitar Society. Sean is The Early Interval's plucked strings specialist.
Lyz Liddell
Lyz Liddell graduated from Bradley University with a bachelor's degree in music, and earned her master of music degree at the Ohio State University in bassoon performance. She has taught at Bradley University and Illinois Central College, and has performed in a wide range of ensembles in the United States and Australia. Before coming to Columbus she studied early music and period instruments under the instruction of S. Blake Duncan and performed with the Peoria Early Music Ensemble. Lyz specializes in wind instruments with a focus on recorder, while also singing and playing viola da gamba and various percussion instruments.
Alexandra Vargo
Xan Vargo is a Columbus local and has been a violinist with the Westerville Symphony for seven years. In 2011, she earned a music performance degree from Otterbein University, after which she opened a music lessons company entitled Dynamic Studios, Inc. She has participated in performance tours of Italy, China, Estonia and Canada. Xan focuses on baroque violin, and also sings and plays rebec, viola da gamba, and percussion.
Interested in performances featuring the Early Interval?
Friday January 4, 2019 (time TBA)
A Twelfth Night Dining Experience
The Refectory Restaurant & Bistro (1092 Bethel Rd., Columbus OH)
Tickets must be purchased in advance through The Refectory
Sunday, February 10, 2019, 7:00 p.m.
Sunday at the Stroede Series
Stroede Center for the Arts (319 Wayne Ave., Defiance, OH)
Tickets available at defiancearts.org or at the door
Friday, April 12, 2019, 8:00 p.m.
Musica Femina: Women Composers of Baroque Italy and France
Trinity Lutheran Seminary Gloria Dei Worship Center (2199 E. Main St., Bexley, OH)
Tickets available at earlymusicincolumbus.org and at the door