The Jefferson Academy of Music is proud to present community outreach programs in schools, libraries and other public spaces benefitting young musicians and music lovers in central Ohio.
Ready, Set, Bow!
These classes are presented free of charge in public elementary schools throughout central Ohio. These 30-45 minute beginning violin classes give students an introduction to violin technique and musical expression in a fun and hands on group class. So far in 2018, we have presented in a few Columbus City elementary schools, Trinity Catholic Elementary, and as part of the King Arts Complex's Spring Break Camp. This opportunity extends through the end of the school year.
Want to schedule a Ready, Set, Bow! class for your students? Contact us!
All outreach activities are made possible by the generous support of individual contributors, grants and donations from community organizations. Help us continue to provide free, quality musical programming in central Ohio--Show your support!
Early Interval and Jefferson Academy of Music
Throughout the 2018-19 School Year, central Ohio students will experience The Early Interval in their music classrooms. Schedule is currently TBA, but will be announced as it is finalized. Interested in having The Early Interval perform and present to your students? Contact us!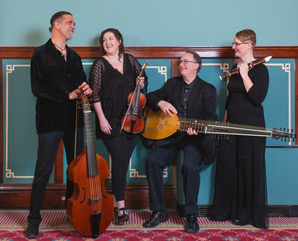 The Early Interval is a Columbus-based ensemble specializing in medieval, Renaissance and Baroque music performed on period instruments. The Early Interval was formed in 1976 and has since its formation performed medieval and Renaissance music for audiences all over Ohio and occasionally beyond. The ensemble performs vocally and on early wind, bowed string, plucked string, and percussion instruments. The group has engaged in a wide variety of collaborations with actors and theater companies, dancers and dance companies, singers and vocal ensembles, narrators, composers and guest instrumentalists. Since 1979, The Early Interval has been the resident ensemble performing annually on Capital University's Early Music in Columbus concert series. The ensemble currently includes Jim Bates, Sean Ferguson, Lyz Liddell, and Alexandra Vargo.
This page is updated regularly to include community workshops and performances provided free of charge by the Jefferson Academy of Music. Have a suggestion for a class, concert or event location? Let us know!