May Term (5/1-6/7) & June/July (6/10-7/19)
Group Classes (Spring 2019, Download Summer 2019 Information at right)
Available this spring! All group classes are scheduled based on student interest and instructor availability. Classes not meeting a sufficient number of interested students will not be held in the given term. The following are our Summer 2019 Group Course Selections:
Piano
Available Spring Term (1/22-4/24) 2019. Our piano classes give young students the opportunity to begin studying piano. Students prepare short pieces, practice technique and learn about musical concepts including rhythm, melody and harmony. These classes are open to students ages 5-10.
Guitar
Available Spring Term (1/22-4/24) 2019. Guitar classes at Jefferson Academy of Music are open this summer to students ages 6-12 who are looking to begin or continue their study of guitar in a group environment. Instructors focus on technique, basic music theory, and introductory musical concepts including rhythm and harmony.
Voice/Stage Movement
Available Spring Term (1/22-4/24) 2019. Voice/Stage Movement classes are open to students ages 10-16 interested in studying acting, musical theater, or stage presence. These classes are designed to give students an introduction to basic vocal and stage movement techniques to increase their confidence and performance skills.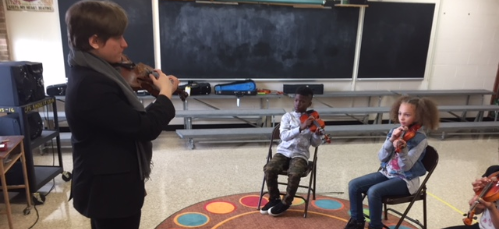 String Project
Available Spring Term (1/22-4/24) 2019. String Project is open to students from 5-18 years of age studying violin, viola, cello or bass. This course includes group string technique classes, short private lessons, music theory, eurythmics, composition, improvisation and music history. Music students from local colleges serve as classroom aides to ensure that all students have enough help and attention to learn and study their instruments in a relaxed group environment. The Jefferson Academy of Music String Project takes place during the academic year and is open to students at beginner, intermediate, and advanced levels.